Perfectly Cooked Sous Vide Salmon
Posted by Avid Armor on Jun 24th 2021
Avid Armor's guide to sous vide salmon, perfectly cooked every time.
Salmon can be expensive and sometimes difficult to cook. That's why our favorite way to cook salmon is via sous vide, because it guarantees perfectly tender and moist results every time. It also allows us to achieve a wide variety of textures. For this recipe we sous vide salmon at 120 degrees for 45 minutes for perfectly tasty results. Cooking sous vide makes it easy to cook salmon perfectly every time, without the risk of overcooking or burning the food. You can achieve a variety of customizable and repeatable results by adjusting the temperature.
Sous Vide Salmon Cooking Temperatures
| | |
| --- | --- |
| Soft and buttery | 110°F (43°C) |
| Translucent and starting to flake | 115°F (46°C) |
| Very moist, tender, and flaky | 120°F (49°C) |
| Well done, moist, and flaky | 130°F (54°C) |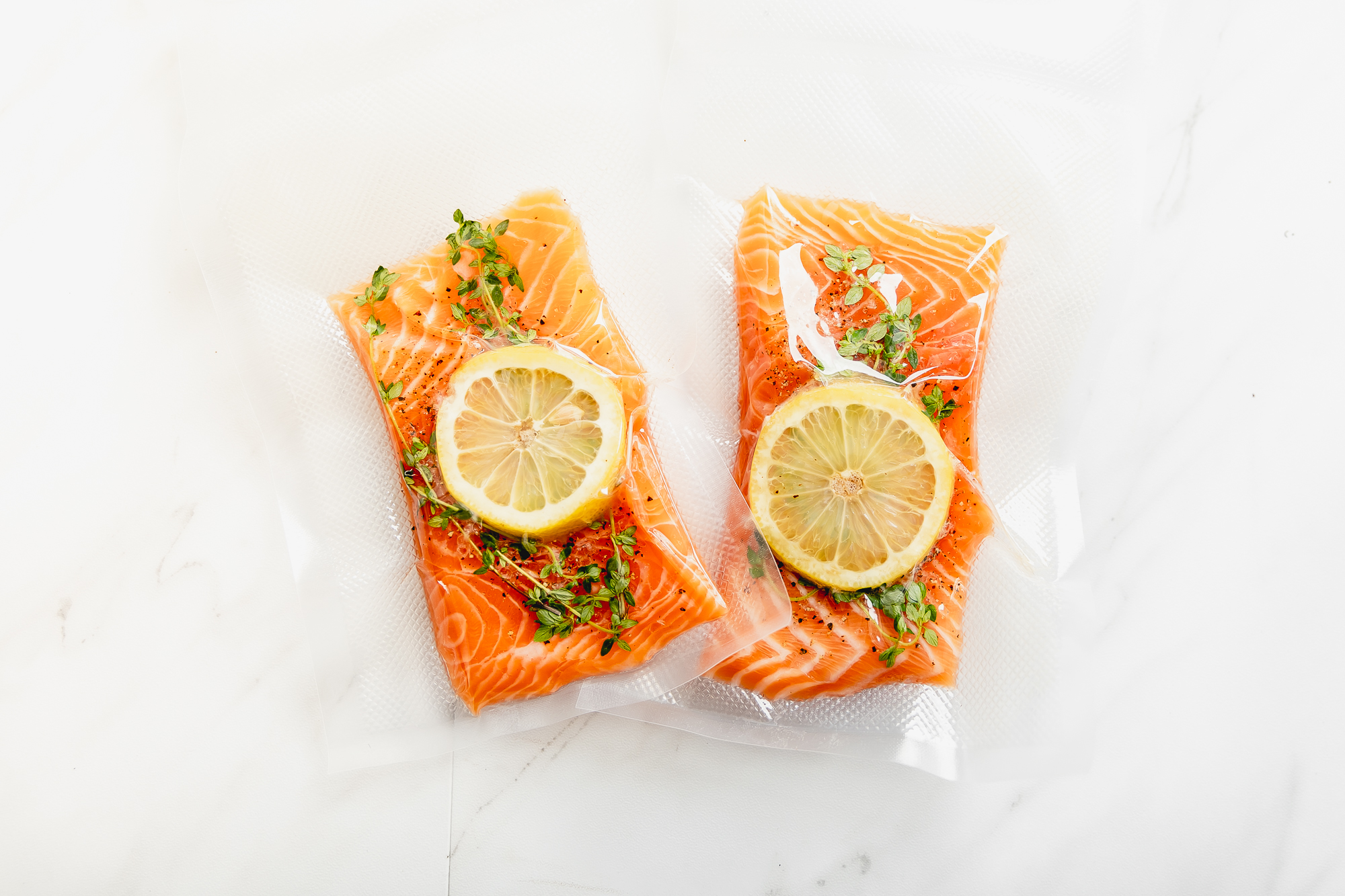 Equipment We Used
Avid Armor Vacuum Sealer
Sous vide precision cooker
Nonstick skillet
Ingredients
2 salmon fillets
Salt to taste
Pepper to taste
2 tablespoons olive oil
Dill
Directions
Rub olive oil gently on salmon.
Season top side of salmon generously with salt, pepper and a little dill.
Place a single piece of salmon in pint 6"x10" size vacuum sealer bag, or in batches in larger vacuum seal bags.
Vacuum seal each bag.
Once vacuumed sealed, you can refrigerate or freeze your salmon until you're ready to cook it.
Use your sous vide precision cooker to preheat your water bath according to the above temperature chart. Our preferred temperature is 120°F. Once the water bath has reached the desired temperature, cook 30 to 45 minutes for fillets 1 inch thick or less, or 45 minutes to an hour for fillets between 1 and 2 inches. If your salmon is frozen, simply add an hour of cook time.
After the time is up, remove the vac bags from the water bath and open them. The salmon will be very delicate so carefully remove it from the bags.
There are a couple different ways to serve the salmon once it is cooked. Our favorite way is to sear it.
Serve Immediately
Serve Seared: Heat olive oil in a skillet over medium heat, once the oil begins to simmer, add the salmon to the pan, and cook for 15-20 seconds, gently flip the salmon over and cook the other side for another 15 seconds. If you salmon has skin on it still, sear that side for 1 minute to 1 ½ minutes.