USV20 as Featured in Food & Wine Magazine's July 2021 Issue as a Top Pick for Life Changing Kitchen Tools
Posted by Avid Armor on Jun 30th 2021
Since we first launched the USV20 Chamber Vacuum Sealer in August 2020 it became an instant fan favorite. With it's sleek and lightweight design and $399 price point, it is the perfect chamber vacuum sealer for any home kitchen.
In less than a year our USV20 model has sold out 2+ times, has received over 200 five star reviews, and has been featured in Food & Wine Magazine as a Top Pick for Life-Changing Kitchen Tools in their July 2021 issue.
Here is an expert from the article that the USV20 was featured in: Chefs' Recs - Life-Changing Tools from Food & Wine Magazine, July 2021
"How can you tell if a kitchen tool is truly worthy of being described as "life-changing"? It doesn't need to be expensive or hard to find; if your eyes ligh typ as you gush to your friends about your vacuum sealer, vegetable peeler or ladle, it's safe to say that you've discovered something particularly special. Congratulations are in order! We invited some of our favorite chefs, cookbook authors, and hosts to wax poetic about the coveted tools they simply can't imagine cooking, entertaining, or eating without"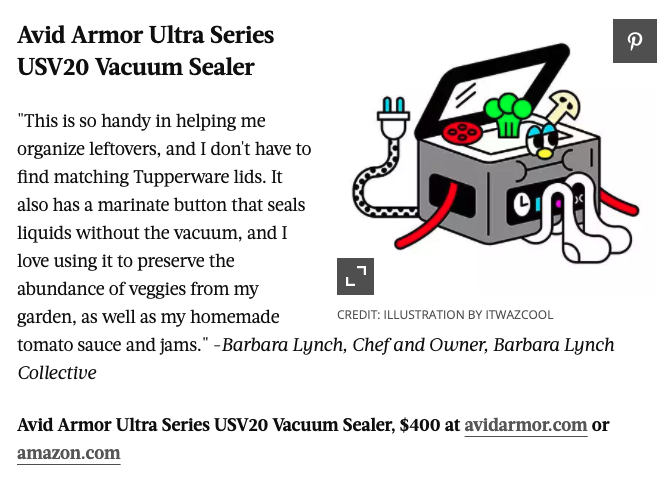 Selected by chef Barbara Lynch as her top "life-changing kitchen tool" the USV20 ranked #4 on the list, and here's why:
"This is so handy in helping me organize leftovers, and I don't have to find matching Tupperware lids. It also has a marinate button that seals liquids without the vacuum, and I love using it to preserve the abundance of veggies from my garden, as well as my homemade tomato sauce and jams." - Chef Barbara Lynch, Food & Wine Magazine, July 2021.
Read the full article on FoodandWine.com
You can purchase the Avid Armor USV20 Chamber Vacuum sealer here.