Wild Turkey Green Enchiladas Recipe
Posted by From Field to Plate | Jeremiah Doughty on Sep 1st 2022
Wild Turkey Green Enchiladas
Ingredients:
1 ½ pounds tomatillos
1 hatch or Anaheim Chile
1 poblano pepper
1 white onion, sliced
7 gloves garlic, peeled
1 shallot, chopped
1 bunch cilantro
Juice of 1 lime
10 corn tortillas
2 cups left-over turkey or chicken
2 cups Mexican melting cheese, or mozzarella
½ cup cooking oil
Salt and pepper to taste
Directions:
1. Smoke or grill peppers and chiles until soft and charred, set aside.
2. De-husk the tomatillos.
3. In large stock pot, add tomatillos and 4 cups of water, bring to a boil, cook 15 minutes or until soft.
4. Cut onion, shallots, and peel garlic.
5. In blender add tomatillos, onion, garlic, shallot, cilantro, lime juice, pepper, Chile, salt and pepper.
6. Blend until smooth, set aside.
7. Heat oil and lightly fry tortillas until soft, 15 seconds. Set aside and pat dry of oil.
8. Lay tortillas out, overlapping each other. Place sauce on tops of each tortilla.
9. Coat bottom of baking dish with sauce.
10. Mix meat with 1 cup sauce and handful of cheese, take 2 tbsp of mixture and place in center of tortillas, roll and place in dish.
11. Top with sauce, remaining cheese and bake at 375º for 30 minutes.
12. Plate with more sauce and enjoy!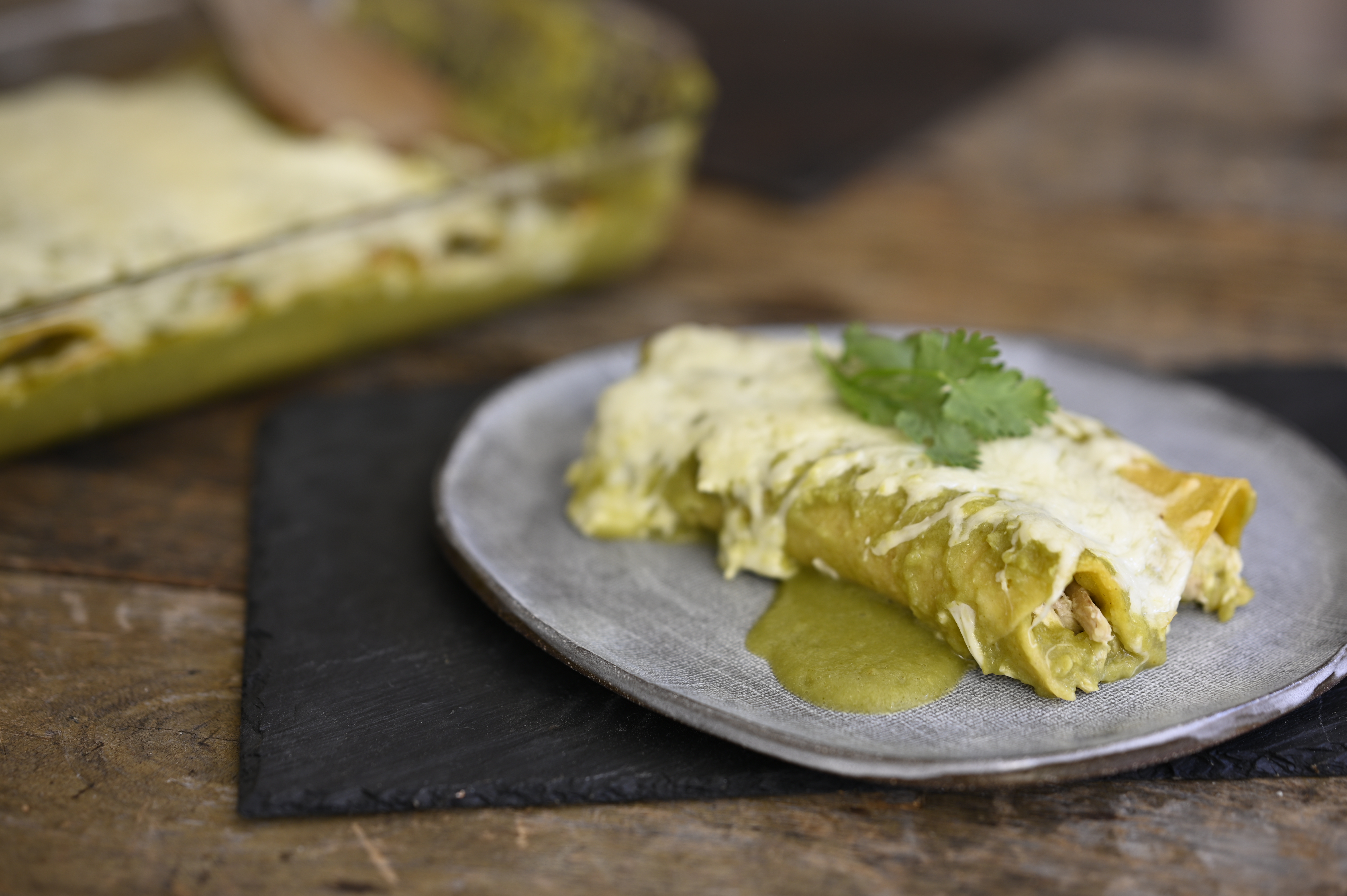 >> Make sure to check out more of Jeremiah Doughty's simple & easy wild game recipes on his website, From Field to Plate or on Instagram!